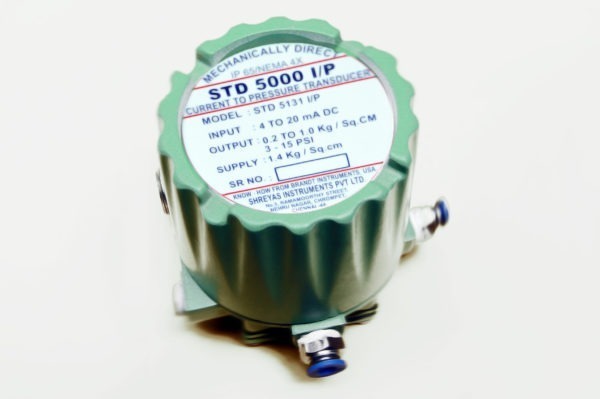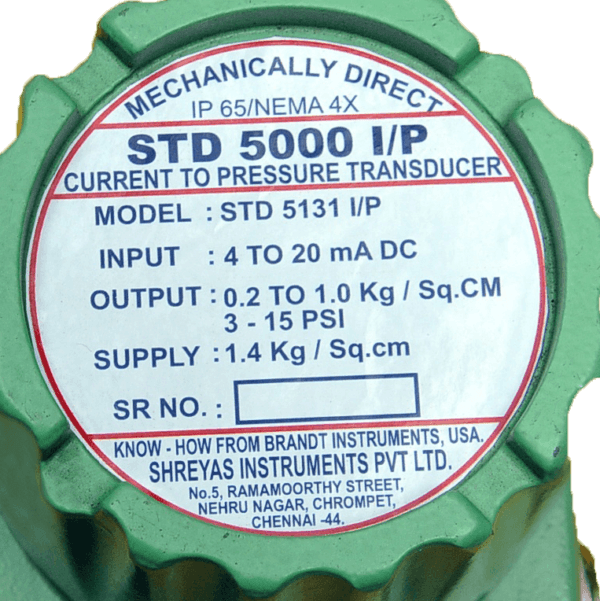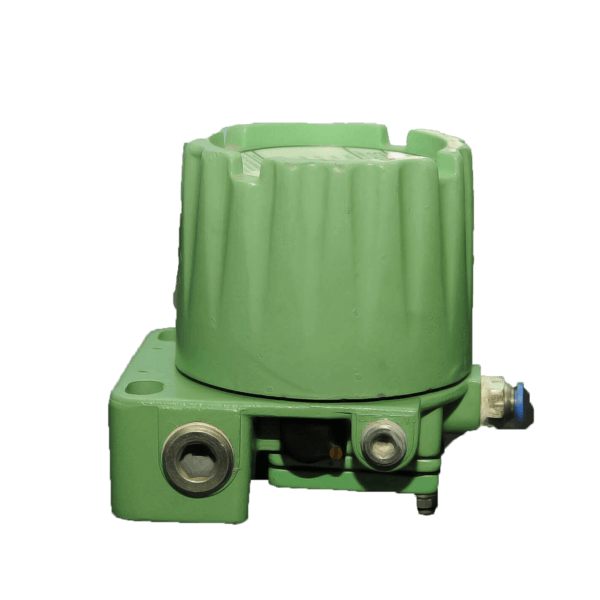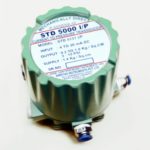 STD 5000 I P Current To Pressure Transducer
The Shreyan – Branat PI – CPT7000 series I/P transducers represent the "state of the Art" in pneumatic signal conversion.
Description
Additional information
Description
Shreyas Instruments  STD 5000 series of current to pressure (I/P) Transducers represent the highest standard in I/P Technology. The rugged IP-65 housing, compact size and the revolutionary "Plug-In-E-PI Module" couple with Brandt's field proven technology, make them the most accurate, reliable and simplest I/P'S to install, operate and maintain in the industry. The 5000 series are similar in specification except that STD 6000 series are fitted with necessary flame arrestors and are certified ones for hazardous area.
Field Proven "E-Pi"Technology is unaffected by Vibration, Shock or Mounting Position

Air consumption of 0.06 SCFM. (Typical)

Output capacity of 4.0 SCFM.

CIMFR Certification for intrinsically safe and Explosion proof Installations.

Operating Temperature Range (-)20

°

to 66

°C

Rugged IP-65 Enclosure

Field selectable Direct, Reverse and split Range.

STD 5000 is for non hazardous applications
Brandt's "E-Pi" Transducer Technology
The STD5000 and STD6000 Series of I/P Transducers utilize Brandt's Patented field proven, "E-Pi" transducer technology. This revolutionary breakthrough provides the industry with its first "solid state"I/P Transducer.
Brandt's "State of the art" E-Pi Technology uses Minimal electrical energy and air consumption to convert an electronic input signal (4-20 mA or 10-50 mA) to a proportional pneumatic output signal (3-15PSIG, 0.2-1Kg, etc).
The E-Pi Tranducer utilizes "a virtually weightless membrane" that is electromagnetically positioned over a nozzle to precisely modulate the pneumatic (back pressure) output. The low mass membrane is held in a continuously balanced position, providing an output that is unaffected by shock, vibration or mounting position. The output of the E-Pi is then fed into an integral volume booster to deliver a pneumatic output signal with an output capacity of 4.0 SCFM
Additional information
| | |
| --- | --- |
| Weight | 3.63 kg |
| Dimensions | 12 × 23 × 56 cm |
| Supplier's Manufacturer's name | SHREYAS INSTRUMENTS |
| Input signal | 4 to 20mA |
| Air supply input to E/A converter | 1.4 Kg/cm2 |
| Output | Varies with respect to model. |
| Output air capacity | 4.0SCFM approx. |
| Accuracy | ±0.15% OF SPAN |
| Repeatability | 0.05% OF SPAN |
| Air supply pressure effect for ± 1% input air supply pressure change | NIL |
| Input Resistance | 4.2 V max |
| Span adjustment | > ± 2% of span |
| Zero adjustment | > ± 2% of span |
| Field Adjustable for Direct/Reverse action | Yes |
| Mounting & Mounting Accessories | SURFACE / 2" PIPE MOUNTING KIT |
| Enclosure Class | IP-66 |
| Ambient conditions | Up to 66°C Up to 95% RH |
| Storage Condition | Up to 85°C Up to 100% RH |
| Insulation Resistance | > 10Mohm at 100 V DC |
| Case material | Varies with respect to model. |
| Standard followed for painting | IN HOUSE |
| Input Air Supply Connection details | 1/4" NPT (F) |
| Cable entry details | 1/2" NPT (F) |
| Pneumatic Output Signal Connection details | 1/4" NPT (F) |
| Terminal Connection type & size | SUITABLE FOR 1.5 SQMM WIRES |